March 30
2017 by Maria Vincent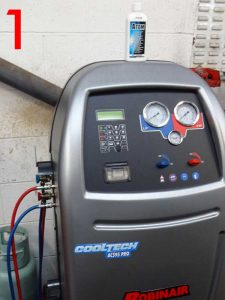 Famous Four have recently acquired equipment and appropriate training in our workshops to allow us to offer air conditioning gas emptying, refilling and leak testing services for all Land Rover and Range Rover vehicles using HFC R134a coolant gas. We also offer air conditioning freshener treatments to freshen and sterilise systems suffering from mould or musty smells.
Take a look at our Workshop section for details on your specific model of Land Rover or Range Rover vehicle, and prices for Air Conditioning re-gas services, as well as a wide range of servicing, repairs and restoration work on vehicles right across the range.
Identify the air conditioning gas type in your vehicle?
Look for a label similar to the following (images 2, 3 and 4) on the slam panel at the front of the engine bay to identify the air conditioning Gas type in your vehicle.
This slideshow requires JavaScript.