June 1
2018 by Richard
Last weekend, May 26th and 27th, saw the inaugaral LAND ROVER LEGENDS meeting at Bicester, Oxfordshire, England, and 6 dedicated Famous Four staff made the 300 mile round trip, setting off at 5am on Saturday morning.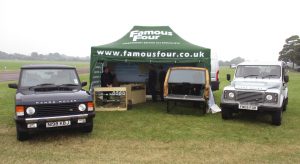 We showcased some of our exclusive products for the Classic Range Rovers, and showed our brand new, UK built, lower tailgates to show visitors, who gave much positive feedback. There was quite a bit to see, including JLR Heritage's stand with their Range Rover Reborn projects.
Our beautiful 25th Anniversary Range Rover Classic made the trip without any trouble, and is pictured here with another of the very rare 25, and two limited edition 35th Anniversary L322 Range Rovers, including a press-launch vehicle. Thanks to Julian Lamb for the lovely photo.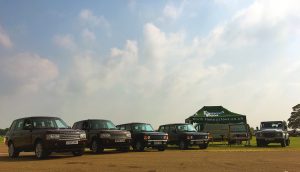 Hopefully we will be out and about visiting other shows over the next few years. We look forward to meeting you all and showing more of our expanding product range.